✨Don't be afraid of the sewer blocked any more✨
with our Kitchen Sink Sewer Cleaning Hook!!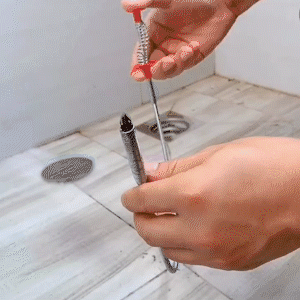 The home sewer is blocked again? The sink in the house is often blocked by a lot of hair, finely broken vegetable leaves, and it is difficult to clean. Try this pipe cleaner, easy to operate, easy to use.
Features :
You can use this picker to pull out strands of hair and dirt from clogged tubs and basins, shower drains, drainage pipes, basins, baths and kitchen sinks. clean the debris from inside and clears the drainage. This picker improves drainage flow and clears out odor-causing gunk and bacteria. Simply discard the harvest of hair & rinse clean!
               Great for kitchen sink, washbasin,bathroom toilets & floor drains,bathtub drain,bathtubs,shower.
DURABLE: The drain snake is made of stainless steel, providing a high toughness. Save your money you will no longer need expensive professional plumber services with this simple in use and affordable drain cleaning tool .
TIGHT GRIPPER : Kitchen Sink Sewer Cleaning Hook can use to remove hair, food, garbage and other obstacles with a four claw retractable grip or as a grabber for something under the couch or down a vent.More environmental and less expensive than toxic chemical drain cleaners
EASY TO USE: Users can grip blockage easily only by pressing the top of the clog remover's handle.
DESIGN: Flexible, bendable spring-coiled steel cable with an easy, comfortable handle on top, with a heavy-duty steel spring and retractable claws on the bottom, making this gripping tool accessible to all those tight, bent, hard-to-reach places and making it easy to retrieve small, non-ferrous objects that magnets can't reach.
QUALITY: hard, unbreakable red plastic handle, super strong steel spring that won't rust or bind when pressed, long reach flexible coiled steel cable and carbon steel claw for assured pickup – rust resistant for long life – non-magnetic.
OTHER SCOPE OF APPLICATION
While ideal for cleaning kitchens, bathrooms, toilets, sinks, tubs and showers it is also a handy tool for catching loose items, trash or objects under the stove, freezer or refrigerator, car, appliances, furniture or any other hard-to-reach area such as a dryer vent – Perfect plumbing tool for solving slow or clogged drainage problems.
clothes falling outside the balcony            objects falling under the bed
           toilet sink
Safe and effective to use in bathroom sinks, bath tubs, laundry tubs, toilet and showers
Wound-steel cable flexes & crimps to bend around corners & obstacles.
It provides a convenient way to grab the hairs to easily clear the clog.
The Perfect Plumbing Tool to resolve Slow or Clogged Drains.
 A FEW SIMPLE STEPS NBLOCK PIPES EASILY
Step1: put the claw directly into the drain              Step2: Extend the pole
               without extending it                                           to the end until it               
                                                                                           touches a foreign object 
Step3: press to make the claws stick          Step4: after grabbing 
out and grad a few more time                            the foreign object, it can
                                                                                 be pulled out directly
Specification:
Product category: sewer dredging tools
Material: PP+stainless steel
Length: 23.6",63",78.7"
Weight: 80 grams
Feature: Clean Hook
Application: sewer, toilet, sink, bathtub