💖Suncatcher of Monarch butterflies on a branch is made of stained glass.
This is a bright window hanging decor, which attracts everyone's attention. And beyond all hesitations, it's a unique memorial gift for losed love ones💕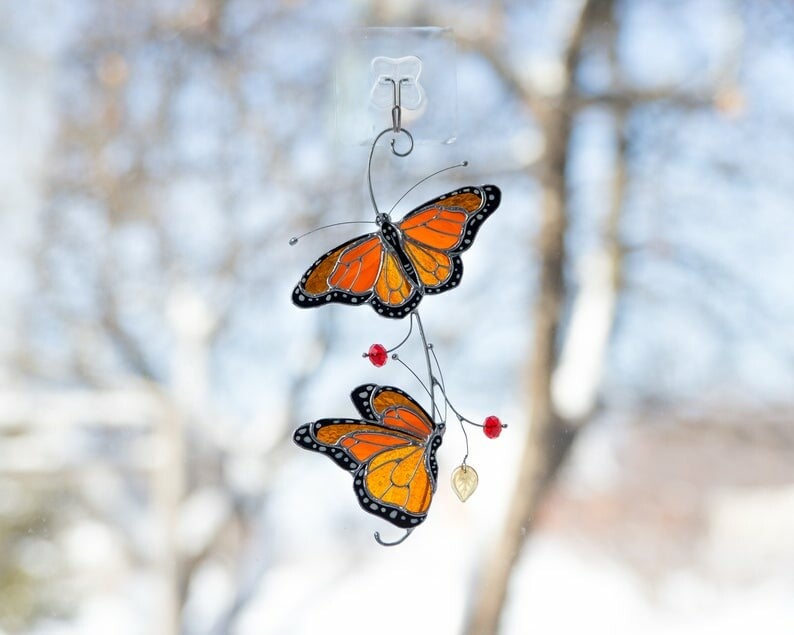 Such a cute suncatcher of two stained glass humming monarch butterfly is a perfect home window decor as well as a lovely gift for any occasion. I'm sure your mom, grandmother, wife, girlfriend, sister or friend will be in love with it. This monarch butterfly suncatcher could be hanged near humming butterfly feeder to attract attention of the monarch butterfly.
💕monarch butterfly are traditionally regarded as a memorial to their loved ones and a symbol of pure love. 💖They seem to be kissing in heaven, accompanied by their beautiful wings in the sun.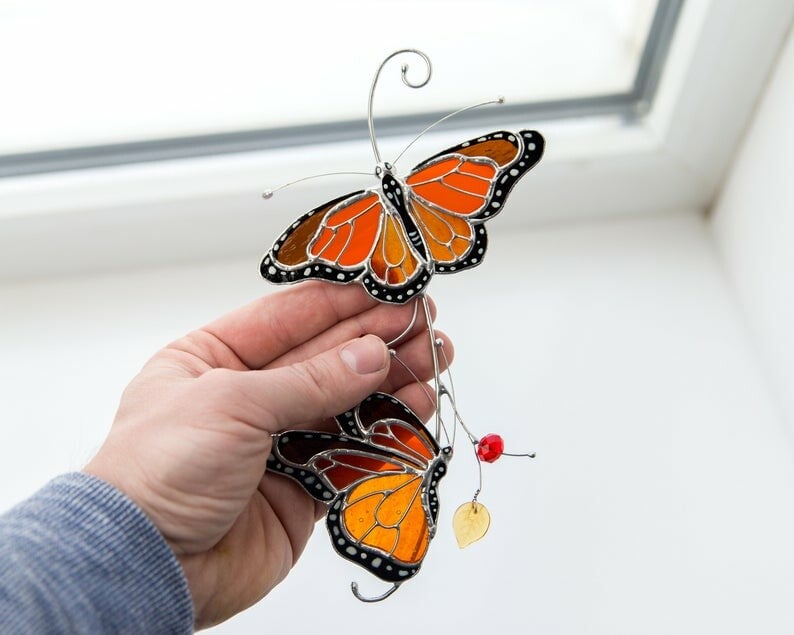 ❤️This monarch butterfly ornament is so beautiful, please put it in your home to commemorate your loved ones. A meaningful decoration to commemorate those relatives who unfortunately are no longer with us.
THIS IS A SPECIAL WAY OF COMMEMORATING
We often miss our lost loved ones, which makes us feel lonely. We pin our thoughts on our room window, which makes us feel that they are by our side.
OUR PAST RECEIVE
I have a small collection of stained glass sun catchers and this one is by far the most beautiful!
I initially purchased one of these for my mom for Christmas Day – once it arrived it was so pretty that I came and bought myself one. The seller is responsive to questions and gets the items out quickly! The stained glass comes well packaged with foam and I have had no issues on either of the items! The piece is dainty and delicate looking but sturdy!
I wrote a review of another sun catcher which is a beautiful blue bird. The monarch butterfly is stunning and the quality is beautiful. I'm looking forward to buying more pieces in the future. Shipping wasn't bad considering it comes from the Ukraine. Packaging was great too! Thank you!